Hi guys!
I'm making a huge four player pedestal; so, I'm selling my old rig and decided to make a video showing off what it can do. It's a long video, but you can skip most of the games (we all have, it's a 100gb version of Chris' free drive), and around the 20min mark you can see how it becomes PORTABLE!
I can post the motherboard and info if anyone interested. The motherboard doesn't need a full, heavy power supply, it powers up with a DC plug like a laptop, and has 4 different outputs for video! VGA, DVI, HDMI, and DisplayPort... so it can play on any modern TV or Monitor.
I took the control panel out and put it on a card table with a projector, and we played SF2 tourney outside (on a giant house wall about 10ft high gaming lol) during a BBQ after it got dark out.
It's not a high-end rig; it can handle SOME of the PS1 games, but nothing with Polygons like Battle Arena Toshinden etc.
Costs:
Control Panel was about $250 bucks: Motherboard and Processor about $125, 8gb Memory about $50, 2 Player 20 Button Kit (Sticks, and Zero Delay Encoders included) about $80. Optional Trackball was $30 off eBay, and wood was about $20 bucks.
The outer cabinet was a single piece of 1/2" MDF and weighs 30 lbs; I used vinyl decals on sides, and black paint on front and inside. The wood and paint and vinyl was about $100 bucks.
This doesn't include the Hard Drive, operating system, the games, setup, etc. But, you can replicate this build for $500 or less
Video showing it all:
https://youtu.be/NH4FL56l8Gw
Very cool James, easily taken anywhere to hook up and play.
_________________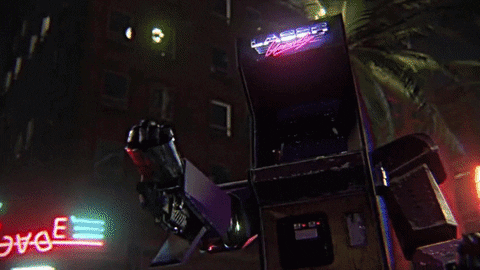 RIG: Stormtrooper Stryker, Gigabyte Gaming 7 MB, Skylake i5 6600k OC to 4.7ghz w/ Noctua D14 fan, R9 290x GPU, 16gb G.SKILL Ripjaws V, 1000w PSU, Samsung Evo 850 HD
Future arcade build (have most parts already) 4 player arcade with 2 aimtrack guns, 2 spinners, force feedback racing wheel and blissbox adapter with original controllers for the following systems: NES,SNES,Genesis(3 and 6 button controllers), N64, Dreamcast, Wii/WiiU, Xbox one. Might add PS2 controllers but I always hated those.

Sahadd Prawser

Final Boss





Posts

: 350


Bonus Coins

: 419


Hi Scores

: 25


Join date

: 2017-09-02




---
Permissions in this forum:
You
can
reply to topics in this forum