Here are a couple fairly cheap ways to use Chris Shaw arcade drive:
1) Use xbox 360 controllers
, its pre-configured for them.
2) BUT I STILL WANT TO HAVE THE ARCADE EXPERIENCE WHILE BEING LAZY AND POOR!

Well then you can easily buy this arcade stick:
https://www.amazon.ca/Mayflash-Arcade-Fightstick-Joystick-F300/dp/B019MFPLC0/ref=sr_1_1?ie=UTF8&qid=1505276511&sr=8-1&keywords=mayflash+f300
https://www.amazon.com/Mayflash-F300-Arcade-Fight-Joystick/dp/B019MFPLC0/ref=sr_1_1?ie=UTF8&qid=1505276535&sr=8-1&keywords=f300
It works with Chris's pre-configured controls (but requires an xbox 360 controller to also be connected to it) It is universal and can be used for all of your consoles, pc etc.
AND
It can later be upgraded with real arcade parts (replace joystick and buttons)
This lovely gentlemen upgrades his over 3 youtube videos if you want to know how to do it:
Part 1)
Part 2)
Part 3)
I have personally tested this and upgraded its parts. Works great with default controls on Chris's drive.
3) Bonus points for people posting their cheapest / most ghetto builds for an arcade panel or some other zany idea.
_________________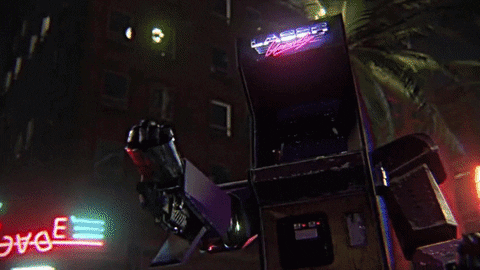 RIG: Stormtrooper Stryker, Gigabyte Gaming 7 MB, Skylake i5 6600k OC to 4.7ghz w/ Noctua D14 fan, R9 290x GPU, 16gb G.SKILL Ripjaws V, 1000w PSU, Samsung Evo 850 HD
Future arcade build (have most parts already) 4 player arcade with 2 aimtrack guns, 2 spinners, force feedback racing wheel and blissbox adapter with original controllers for the following systems: NES,SNES,Genesis(3 and 6 button controllers), N64, Dreamcast, Wii/WiiU, Xbox one. Might add PS2 controllers but I always hated those.

Sahadd Prawser

Final Boss





Posts

: 350


Bonus Coins

: 419


Hi Scores

: 25


Join date

: 2017-09-02



I made a HyperSpin build that was portable, 2 player, with Trackball, LED light buttons and joystick, start to finish for about $500. It was able to play N64; but GameCube and PlayStation were playable but on some games there was slowdown (mainly polygon games).  If $500 sounds like a lot, that's including the computer!
I used an Asus M5A78L-M/USB3 which is a great motherboard that doesn't require a power supply (it's powered like a laptop); I put in 16gb memory (2x8gb) and I used a core i5 processor. Instead of a case; I built a cheap wooden box that was 24" x 18" x 6" high and on the back I cut out an opening for all the inputs of the motherboard; and on the top I put a hinge and installed arcade controls; then put the motherboard on inside and mounted with cheap "pcb feet" to keep it off the bottom of the box, hooked up arcade controls (2 USB cables) and Trackball (USB) to internal motherboard ports; wireless keyboard and mouse combo to outside ports.
I used one of the eBay "led encoder kit" controls that have two small encoders, joysticks, 20 buttons for about $40 bucks like this one:
https://www.ebay.com/itm/371837333431
Motherboard above is about $50, memory on eBay or crucial less than $100, Trackball ("led USB Trackball" or "led ps/2 trackball) is $25 on eBay, processor most expensive part excluding a hard drive which I'm assuming you already have. This set up has an HDMI DVI VGA and DisplayPort out, so you can use any monitor or tv and it looks great.
Here's some pictures of mine:
https://imgur.com/7uqt1vs
https://imgur.com/Myw6Q9k
(Mine also had a spinner for Arkanoid type games, expensive $130 part), pinball shooter (even more expensive addition), and extra analog 4 way stick for older arcade games but also as a second control for dual stick games like Xbox, PlayStation, etc for menus and stuff).... these push it over $500 but aren't required. You can also hook up an old Xbox 360 USB controller to use on newer consoles like PS2, etc; and store it inside cabinet with Velcro to hold in place (so it doesn't hit motherboard when moving around!). You can get used one locally at used gaming stores or on ebay fairly cheap, and I would recommend that if playing newer console games.
I also built a very cheap and simple arcade "cabinet" shelf using one piece of MDF wood; here's a picture before I painted it and cut a rounded hole for chair at bottom:
https://imgur.com/zOyaqCE
And the finished upright cabinet I use/store it in when not in 'portable mode' version:
https://images.craigslist.org/01616_2UNNgUrno9R_1200x900.jpg
_________________
---
So, the funniest thing about this particular signature line is that by the time you realize it doesn't say anything, it's too late to stop reading it

---


Similar topics
---
Permissions in this forum:
You
can
reply to topics in this forum