Good Morning All,
I chose to beta test the drive and make a video of the issues that I find.  This is my second youtube video so thanks for your patience it's about 14 minutes long.  The first issue I found is with IPAC controller.  I am using the X-Arcade tankstick.  The BLUF, is that the IPAC binding are not sticking for some reason with IPAC controllers in HS.  They will work well right when you finish the syncovery update or when you run the initial setup, until you restart or turn off the machine.  Once the machine is restarted or turned off the binds will not work in HS again.  The buttons will all work when loading the game in RL, it will work running the game straight from the emulator.  Here is a video of me going through the process.  The buttons used to work like a champ prior to the November updates.  If anyone else is having the same issue with their IPAC please let me know how you fixed it.

https://youtu.be/Sdoxq0ruttU  
Ringedge for some reason does not work.  It will extract the game and then it takes you to the emulator.  You have to exit HS and the emulator will be on the desktop.  If you try to run the rom directly from the emulator it will not play.  If you try to run the game from RL it will extract, however it won't load and provides an error.  Below are two pictures of the Ringedge errors.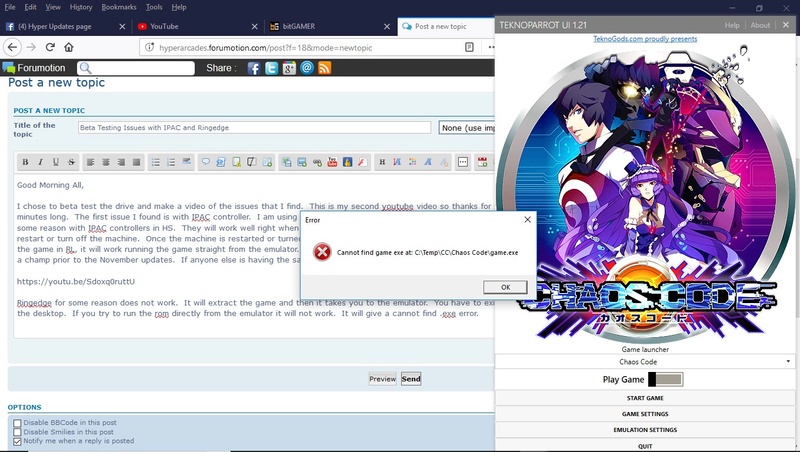 This is the furthest I got so far with issues since my IPAC isn't working consistently.  I'll keep messing around with it and if I find something I'll post the fix.

Jonathan Lee




Location

: Maryland


Posts

: 63


Bonus Coins

: 95


Hi Scores

: 2


Join date

: 2017-09-15



This is fantastic.

Regarding the bindings not working, do you mean outside of using RocketLauncher/HS to launch? IE are you manually launching?

If so, that's because Chris built the Joy2Key bindings into RL now, instead of from J2K itself. The J2K wasn't switching well, and, wouldn't switch back to HS after many games, so, it was a problem. To fix, he basically put each J2K profile into RL so that RL launches a standalone J2K with that profile as the game is loading, then goes back after it's exited. That's how most people set up HS... it just took a while for us to switch over due to the sheer volume of games.

If you want to fix; you'd need to design J2K profiles (we can get copies of all the old profiles) but you'd have to manually launch J2k and set up all the game hooks per emulator etc... it's a big hassle; but might also cause conflicts with J2K launched when you use RL or HS to launch a game.

What this means is it'll be very difficult in future to run any games outside of RL... but it'll be much more stable running it from that way.

I'm not sure about RingEdge, haven't had chance to test yet. I'll msg chris about it. I'll msg you too to confirm.
_________________
---
So, the funniest thing about this particular signature line is that by the time you realize it doesn't say anything, it's too late to stop reading it

---
Marking solved, Chris redid RingEdge (tecnoparrot) and will be releasing update soon.
_________________
---
So, the funniest thing about this particular signature line is that by the time you realize it doesn't say anything, it's too late to stop reading it

---
---
Permissions in this forum:
You
cannot
reply to topics in this forum