Had a question, about the "Game Over" screen upon exiting a game... Everytime I exit the game, That screen is not centered and I only see about half of the logo and it appears larger, like its blown up and shifted down to the right... Every other loading screen seems proportional, upon loading, its just that game over screen that is the issue... Im running my set up on a 55 in TV, running @ 1920x1080...Keep in mind every other screen, seems centered and proportional.... Any comments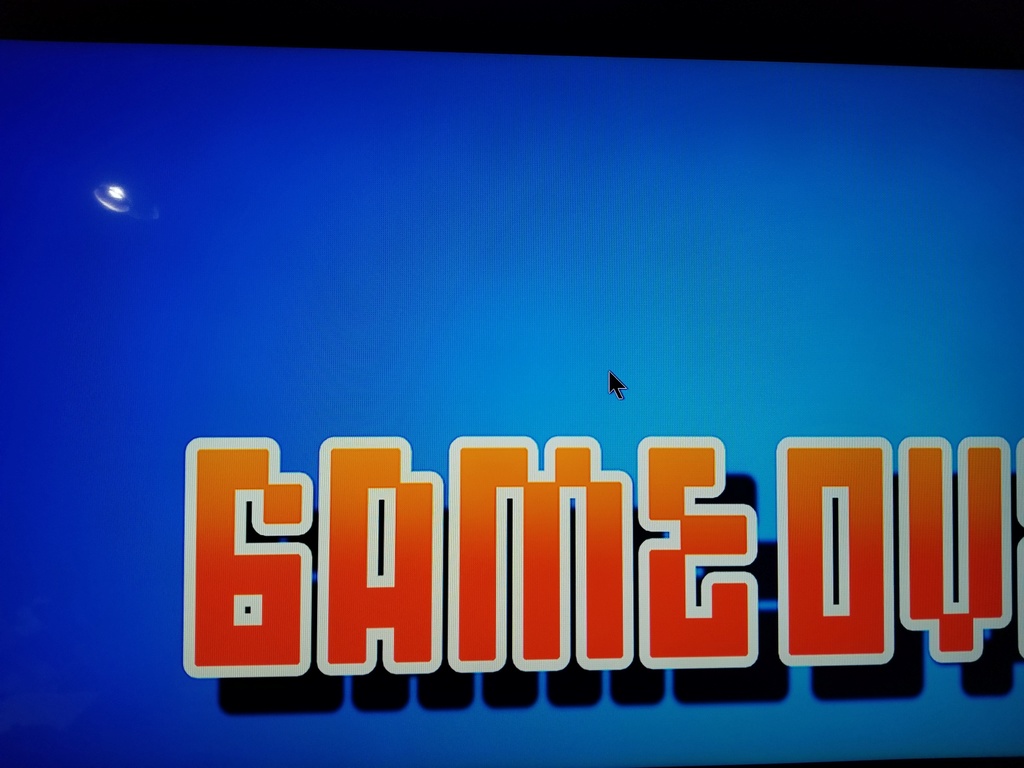 /suggestions/help appreciated!  Just to clarify...  this is when I am within MAME.
Last edited by Ryancoy on Mon Jan 29, 2018 7:38 pm; edited 2 times in total

Ryancoy




Posts

: 6


Bonus Coins

: 12


Hi Scores

: 0


Join date

: 2017-09-19



Frustrating.. this new update has a lot of problems.... some of the game systems when i launch it, the volume goes to 0 , i would have to increase the volume back up. The bezel on every system has changed .

nintendo 64 : The screen goes to the top left and not centered,
playstation 1 : the screen goes to the top left and when i press the Y button on xbox controller, it goes to controller settings wtf?

gameboy: the screen is like 3inches x 3 inches
gameboy color: same thing
gameboy advance : same thing

theres are a few to name, but a lot of the systems has changed its screen resolution.

Dylan Chau




Posts

: 56


Bonus Coins

: 70


Hi Scores

: 4


Join date

: 2018-01-07



Just curious if anyone else has experienced this issue?

Any comments appreciated!

Thanks!

Ryancoy




Posts

: 6


Bonus Coins

: 12


Hi Scores

: 0


Join date

: 2017-09-19



Dylan, stop complaining, you post more support threads on here than anyone on the slightest thing. It's free updates, there's so many things that can change that if you don't want to have to do a bit of troubleshooting; do NOT update when Chris mentions a new update and give it a week. We say this every time: don't update until at least a week after it is announced; or you could be stuck with things until the advanced users can report problems and we can make fixes.


Regarding this issue; it's the screen resolution on the image. You can edit the image, but, i can't recreate it and i've changed resolutions. Leaving this for review now; I'm going to mark it 'solved' to see if any of the other admins have this issue on that particular image.

A quick fix: just re-edit the image in paint to change the resolution down. There's another fix using RL to edit the stretched aspect, but I don't want to do that yet until we know this is happening to other users. If i change it, it could go to one or two people having an image with a cut off logo; to hundreds of people getting stretched images and harder to troubleshoot/fix.

FYI Marking this post solved, this doesn't mean that we will not continue to help with this issue. Moving this because the above will solve this issue 99% of the time and help other users; so we want to get it to the SOLVED section. If you are still personally having the same issue, please continue to post in this thread and we will continue to assist if we can; the moving of the post is to help others, it doesn't mean we are ending viewing this thread.
_________________
---
So, the funniest thing about this particular signature line is that by the time you realize it doesn't say anything, it's too late to stop reading it

---

---
Permissions in this forum:
You
cannot
reply to topics in this forum