I just went through the steps list for downloading and extracting the Part 1 archive and I have two folders left over in the archive that were never mentioned in the steps. These are the "transmission-watch" (which is empty) and "usr" (which has a lot of sub directories).  
According to the directions I would just delete the 7z file after having extracted all the game systems and basically deleting these directories along with it since they are not mentioned.  I just wanted to check and see if that is what I was supposed to do since I wouldn't think these files would be necessary to include in the archive if they were not needed for something.  If they are needed, what directory do I extract them to?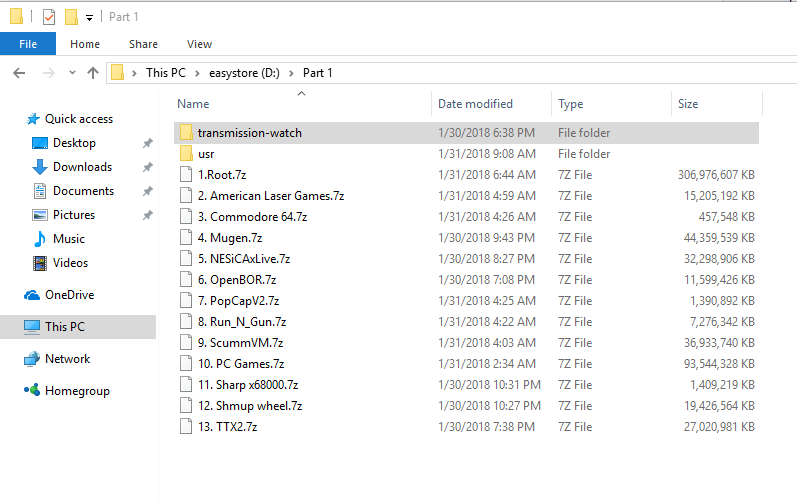 Kris Purdy




Posts

: 1


Bonus Coins

: 3


Hi Scores

: 0


Join date

: 2017-12-31



Brings up an interesting question, my download is from Jan-28 and my files are different sizes (all extracted with no issues) but unlike Kris I have a 'files' folder (empty). I doubt it's needed.

TTX2 is #14 on mine (no #13), so in the end I have the same # of 7z files.

zeenon71




Location

: New Jersey..the greatest country in the world.


Posts

: 153


Bonus Coins

: 188


Hi Scores

: 13


Join date

: 2018-01-30



Those are folders from the server, I *know* transmission-watch is NOT needed. I'm not sure from what you write above what are in the usr folder, but, i'm 90% sure it's not needed too.

If it's a large folder, move it to a backup drive just-in-case so not have to download again.




_________________
---
So, the funniest thing about this particular signature line is that by the time you realize it doesn't say anything, it's too late to stop reading it

---

---
Permissions in this forum:
You
cannot
reply to topics in this forum